June 25, 2014 | Posted in Announcements | By Jason Marotta
[ssba]
YOU ASKED, WE LISTENED!
Franklin's Friend's of 10 v1.1 Now Available with 100% more user feedback!
First, we'd like to thank all those who submitted feedback for the Franklin's Friends of 10 debut release.
We've taken all of your suggestions and feature requests and added them into the latest Franklin experience.
Here's a listing of what's new:
• 0 and 10 are now available on the Number Line
• 4 New & Fun Franklin Animations!
• Rounds now have animations between them to give kids a quick break
• Each problem is dynamically randomized in the game play and the "Bonus Round"
• Fixed the crashing issue on 1st and some 2nd generation iPads
If you're on iOS 7, you don't have to do anything, Franklin will update you automatically!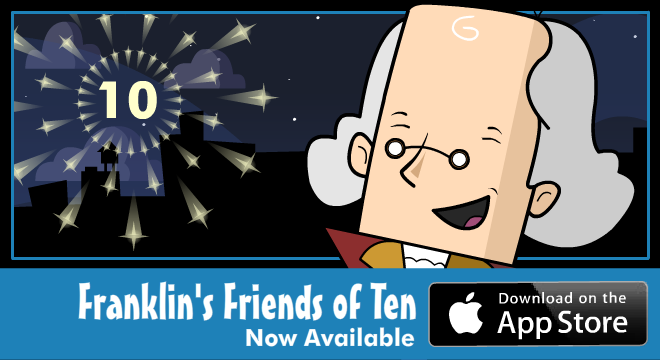 DOWNLOAD NOW!

Franklin's Friends of 10 will help kids learn addition while introducing essential analytical thinking in an encouraging and rewarding way. Franklin celebrates learning success with engaging visuals and original music for hours of learning fun. Best part – it's FREE!
Help us continue to bring the best kids learning apps to life, let us know what you think and be part of the curriculum.
Stay tuned for news and release dates for more apps!